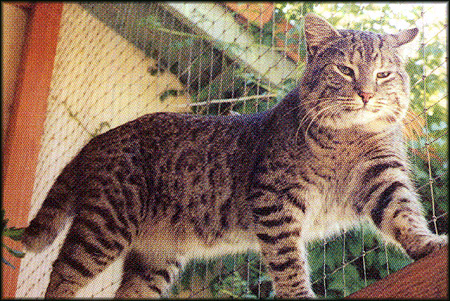 Winterhawk shows off his obvious bobcat ancestry. What a perfect boy!
The Pixie Bob is a domestic cat bred to emulate the appearance of the North American Bobcat. Our unique Special Agents display many bobcat characteristics. They are fit, boasting large muscular bodies. Males will range from 10-16 pounds upon maturity at 3-4 years old. The females are about a third smaller at 8-13 pounds. Some organizations claim much larger sizes, but these claims are suspect and have not been substantiated. Agents are camouflaged in natural bobcat colors, with predator markings and a short 2-6" tail. Many exhibit lynx tipped ears, thumb prints on the back of the ears, cheek wings and large feet, sometimes polydactyl. The standards for the Pixie Bob can be viewed on the TICA (The International Cat Association) website. Common terms are defined on the Agency's Definitions file.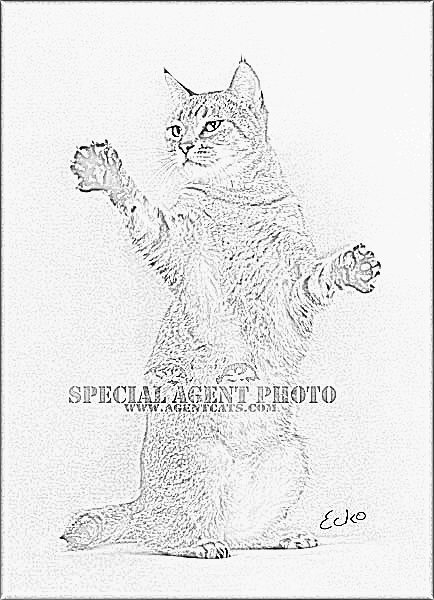 Each operative is intelligent with a charming and lovable nature. Their specialties include, but are not limited to, Laptop, War Games, Reconnaissance, Infiltration, Communication, Archeology and Covert Operations, or any combinations thereof. We also get an occasional under-comforter, er, I mean undercover Agent, physical therapist or comedian.
Our agents are in exceptional condition and have been known to engage children for hours. They love to be with their human assignment and can be trained to walk on a leash. Check out the video of Special Agent Darby learning to walk on a harness by clicking here! Some also enjoy car rides or water. Agent 6 loves to pursue a stream of water and usually winds up drenched. If allowed, Special Agent Boomer actually showers with his assignment, Sandy Murphy, and Special Agent Kajika loves bubble baths with Jennifer's daughter.
The Pixie Bob is an active cat, but not hyperactive. It is like the Quarterback of the cat world. They like to be in the game and are very intelligent. They hang out with you to the point of being at your side every available moment. They also like to be involved in whatever you are involved in, and often have input to help your project along. They don't like to be alone, and do well with other cats or animals. If you are gone long periods of time, you might want to get your Pixie Bob a buddy. Two Pixie Bobs are twice the fun, love and devotion.
Our Agents are loyal and have put their lives on the line for others. In one case, a small, female Pixie Bob Agent stormed into enemy territory and assaulted 3 Rottweilers and a Labrador to save the life of a young, unrelated Pixie operative. Another young Agent attempted to pull a bather from the bathtub using her paws and teeth. She attempted to talk the bather out first. Then, thinking the bather was drowning, the Agent assessed the situation and took what she deemed as appropriate action.
WARNING: As with all cats, many Pixie Bobs raised in cages can be shy or nasty. We strongly suggest that you get your kitten from a home, like the Agency, where they are lovingly raised underfoot. Visit the organization (cattery) if at all possible. If you cannot visit the cattery, be very aware of the background of pictures and of what is said by the breeder. Of course, visitors are always welcome here at the Agency.