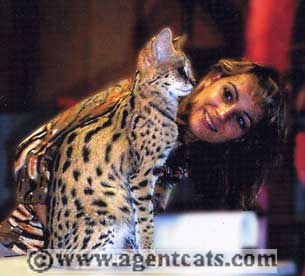 We have used selective breeding to keep the wild look of our cats. We don't just breed to get Savannahs, we take the time and breed to get awesome Savannahs. Our program has two amazing, third generation girls, Camelottaspots Lady Merryn (above) and Camelottaspots Lady Ruffian (left). Aren't they breathtaking? We also have a couple beautiful fourth generation girls, Camelottaspots Agent In Charge and Special Agent Lady On A Mission.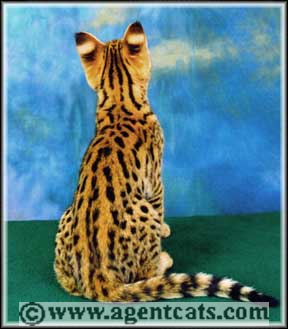 Unlike the Pixie Bob, the Savannah is a hybrid breed. It is derived from the African Serval. How closely related the cat is to the actual Serval is indicated by which generation the cat is. An example would be an F1 (or first generation) would be the direct offspring of an actual African Serval. An F2 (second generation) would be the grandchild, and so on. Naturally, the closer generations would look more like a Serval, but the temperament of the more distant generations is usually better. To the left is a photo of a Serval.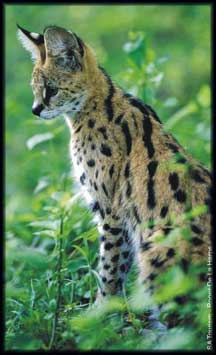 THE ASHERA CAT CON
An unethical man bought a couple Savannahs, called them "Ashera Cats" (also spelled "Ashura" or "Asheera"), "the designer cat" and greatly increased the price to ridiculous levels. Be assured, these Asheras are simply Savannahs with Bengal cat used as the domestic cross with the Serval. The Bengal Cat descends from the Asian Leopard Cat.
We want to thank Arden & Chris Morley for breeding these beautiful girls and allowing us the opportunity and pleasure of having them in our life and hearts.
We have decided to take an indefinite hiatus from breeding Savannah Cats. We are going to concentrate solely on the Pixie Bob at this time.