Above is a Solo winning a trophy for being second best kitten in the show, helped by several best kitten awards.
Solo gets attention by sitting up and waving. Unfortunately, she always blinks or squints when I use a flash to take her picture. Without a flash, the photo is blurred, as it is below. But, you can see how cute she is and how her antics would demand attention from anyone.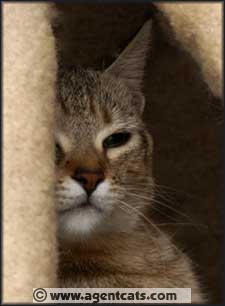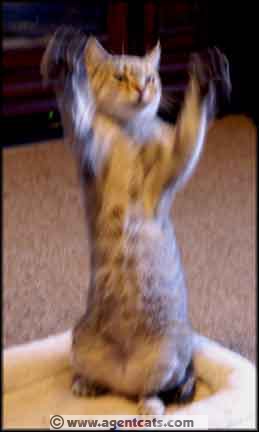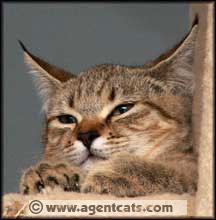 Solo is an energetic girl. She loves to run on the wheel so much, it has been named the "Solo Flex". Not only is it named after her, she owns it. She takes great exception to anyone else running on it, and will promptly jump on and run hard to try to launch them off. Needless to say, she is solid muscle.
Here is a photo with TICA judge, Jeff Roberts, who gave her the Best Cat awards which earned the title of Supreme Grand Champion.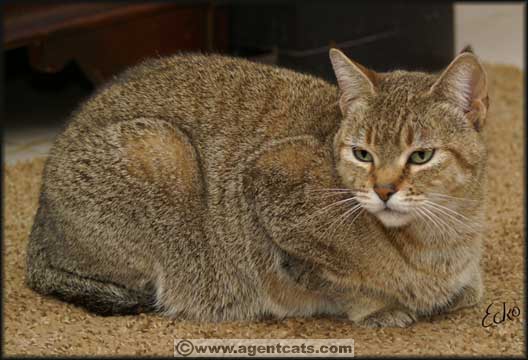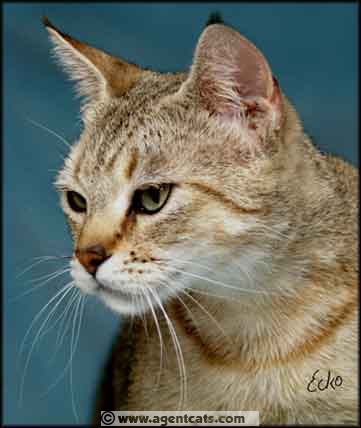 Solo is unique in every way. Her personality overflows. She demands your attention by sitting up like a prairie dog and waving a polydactyl foot or two at whoever will notice. Her hobby of passion is running on a cat wheel. She is very skilled, and the wheel has been dubbed the "Solo Flex". Solo is very relaxed in the show ring. She has found that she gets attention sitting up there too. She is the daughter of one of the most stunning Pixie Bob girls in the world, RW SGC Special Agent Legend, and the mysterious and coveted Secret Agent Canyon.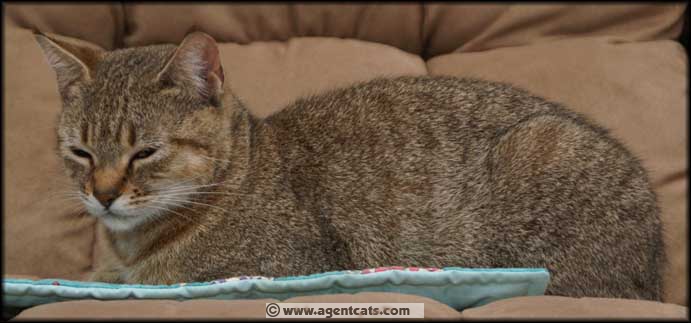 Solo does a wonderful prairie dog impression. She has exceptional balance when sitting up or standing on her hind legs. This is a common move of hers when she is trying to get someone's attention. She has no problem amusing judges and spectators alike with this charming trait, either. She is relaxed and enjoys showing.