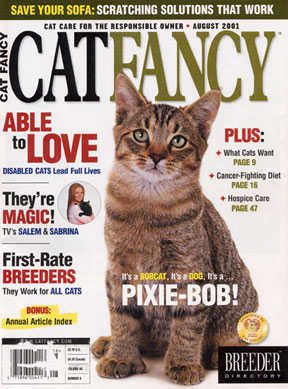 Our Agents have made several public appearances. You might have seen them on the cover or pages of magazines such as CatsUSA 2012, Cat Fancy or Pet Place. Or, you might have seen them on other peoples web sites (unidentified, of course).
To the left is Special Agent Captain Jack, representing the Pixie Bob in a breed feature in Kittens USA 2013.
On the right is Special Agent Fourby (son of SGC Blackfoot Agent Six), chosen for the cover of Cat Fancy Magazine, August 2001, featuring the Pixie Bob.