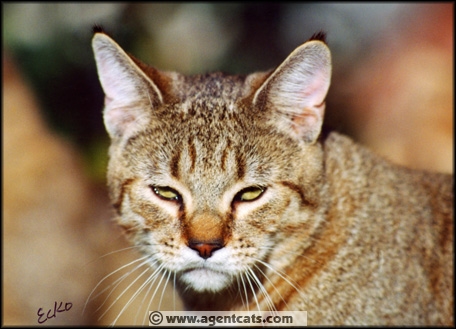 He is a huge boy with heavy boning, is polydactyl on three feet and has a truly great expression. There is no doubt he is his father's son.
More than one judge has actually asked if he was okay to handle because he looks so wild. Several who have met him in person are intimidated by him. They need not be. He is truly a sweet natured boy. He was so popular in the show hall, one judge commented, "How can I flaw a cat with such an entourage. He probably has a star on Hollywood's Walk of Fame." His fans missed him right away, requesting a special appearance now and again.
Those who have met him know, his looks are only part of his appeal. He also has an awesome personality. His philosophy is, "Life is a toy, play with it!" During thunderstorms, he'll stand with his hind feet on the bed, and his front on the windowsill, fearlessly enjoying God's light show. Sniper also has a great time playing with the kittens. He blends just the right amount of discipline and fun.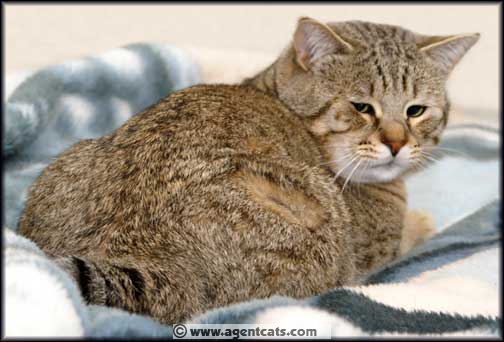 Recon is a large boy with long legs, a perfect tail and tons of random spots on a very rufus coat. He also has one of the flattest brows you will ever see, a highly desirable trait in the Pixie Bob.
"Recon" is a sweet boy, but has that wild, predatory expression that is becoming a tradition here at The Agency. He sleeps in the bedroom with us and his grandfather, Sniper. He says "good morning" by crawling into your arms, pressing his body to yours and looking lovingly into your eyes. He even crawls into the judges arms, prompting one judge to comment with a smile, "I see. He's spoiled at home, is he?"
Recon is still a kitten at heart, and loves to play with anyone who will join him, including his kids. He jumps, spins, rolls and flips. And, he does it with such enthusiasm.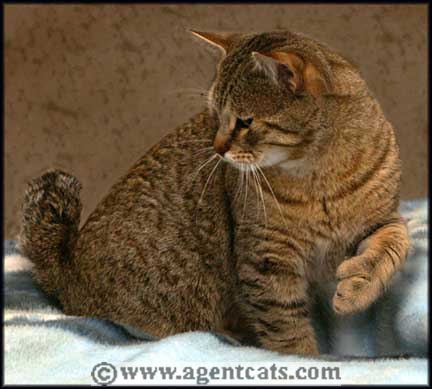 This boy has had some stunning kittens, too. The ones in the show ring are doing extremely well, earning raves from many judges. One daughter from his first litter earned the title of Supreme Grand Champion in very few shows. The kids are already lining up to follow in their father's footsteps and earn some more big titles of their own.